Dynastream's wireless fitness equipment solutions make gym equipment smarter by leveraging the industry-leading ANT+ Ecosystem. Module products include the newly announced G.FIT solution as well as FIT1e and FIT2.
The G.FIT Solution
Designed with group fitness in mind, G.FIT is a turn-key solution featuring ANT+ and Bluetooth Low Energy connectivity and an SDK containing reference code and an embedded fitness equipment library. The third generation of Dynastream fitness modules, G.FIT marks a new era of group fitness functionality. Through evolving individual fitness machines to incorporate group fitness capabilities, G.FIT is the technology fitness equipment manufacturers need to drive sales and maintain a competitive advantage.
Integration options
Manufacturers can (1) leverage turn-key pre-loaded module capabilities or (2) write custom equipment controller software for G.FIT modules using the embedded library in the SDK: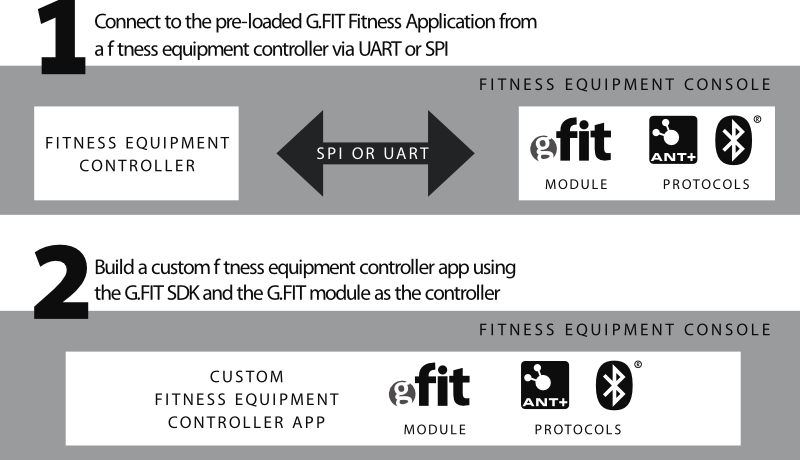 G.FIT Highlights
A fitness module solution with an SDK, G.FIT highlights include:
Enhanced capabilities for group and class use cases with 50+ devices
ANT+ Heart Rate & FE-C device profile support
Bluetooth Low Energy Heart Rate (Central & Peripheral) & Fitness Machine Service
Custom ANT Channels & BLE service
Field upgradable via serial port or wireless connection
Enhanced RSSI assisted sensor pairing
SDK with embedded library, reference code, sample IoS, Adroid and Garmin Connect IQ apps
Extendable to NFC tag & club card support
For more information, download the product brief or contact Dynastream Sales today!
Contact Dynastream Sales Download the G.FIT Product Brief
FIT Modules
FIT1e and FIT2 modules from Dynastream Innovations add wireless connectivity to fitness equipment, allowing for a tailored workout experience. Highlights include:
Loading custom workout profiles from personal devices (such as fitness watches or smartphones)
Simultaneous real-time display and storage of workout data on the fitness equipment as well as personal devices
Fast proximity pairing of personal ANT+ devices to fitness equipment
FIT1e and FIT2 modules are used by popular brands such as Star Trac and Schwinnin exercise bikes, treadmills, elliptical trainers, rowing machines and more.
For more information on FIT1e and FIT2 solutions, contact Dynastream sales.
G.FIT and FIT Module Models
Fitness Equipment Modules
Series
G.FIT
FIT2
FIT1e
Custom App Support
●
Serial Connection
●
●
●
Pairing
RSSI based proximity
RSSI based proximity
AGC based proximity
NFC Compatible
●
ANT
ANT+ HR
●
●
●
ANT+ FE-C
●
ANT+ FIT
●
●
Cust. ANT Channels
Up to 12
4
2
Bluetooth® low energy
BLE HR Central / Peripheral
●
BLE Fit Machine Svc.
●
Custom BLE Svc.
●
EM HRM
●
Field Upgradable*
●
Data burst rate (bps)
Up to 60k
Up to 20k
Up to 20k
Data encryption
AES-128
Max. Tx power (dBm)
4
4
0
Supply Voltage (V)
1.7-3.6
2.0-3.6
3.0-10.0
Mounting
SMT pins and LGA pads
SMT pins
Connector
UART/SPI
●
●
UART only
Models
GFM4
GFM4-A
GFM8
FIT2
FIT1e
Size (mm)
20 x 20 x 2.8
20 x 20 x 2.8
14 x 9.8 x 2
20 x 20 x 2.6
20 x 33 x 7.0
GPIO
30
24
24
Analog IO
8
8
8
3-axis MEMS accelerometer
●
Certifications
FCC, IC, NZ/Aus, CE, JP, Kor
FCC, IC, CE NZ/Aus, JP
FCC, IC, CE, NZ/Aus, JP
* Via wireless or serial connection