N5 Starter Kit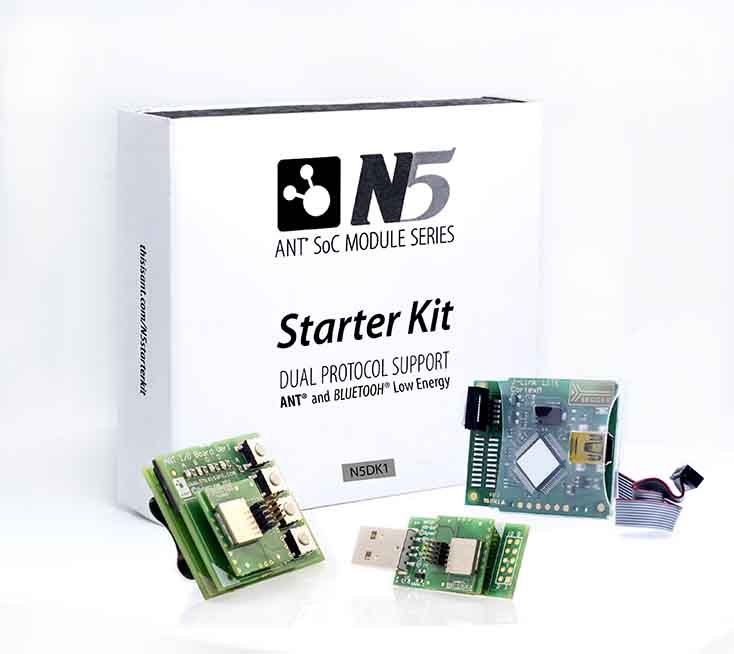 N5 ANT SoC Module Starter Kit contains all the pieces you need to start evaluation and development using the module and/or nRF51422.
Besides the freely available manuals and reference code from Dynastream Innovations, a product key of Nordic Semiconductor is provided so as to access all the supporting documents and software by Nordic Semiconductor.
The starter kit contains the following hardware pieces. Most of the parts are sold individually if users need to create a more complex network.
| | | | |
| --- | --- | --- | --- |
| | Order Number | Quantity | Part Description |
| | N5150M5CD | 2 | Module with 20-pin Molex connector |
| | ANTBAT2 | 1 | Battery board with a Molex socket, a reset button and a five-position dip switch |
| | ANTIO1 | 1 | I/O board with a Molex connector, a Molex socket, 4 LEDs and 4 buttons |
| | ANTUIF1 | 1 | USB Interface Board with a Molex socket |
| | | 1 | Segger J-Link Lite Programmer |